It is well known fact that it's becoming harder and harder to be heard on social media. You need to get more and more creative in order to grab your share of attention on Facebook .
As we are already well in the holiday season, it is the perfect time to think of exciting Christmas contest that will challenge, truly entertain and eventually engage your fans.
One of the easiest Christmas campaign ideas to run is a comment giveaway. It's easy for people to enter and for you to track entries, so here is the idea:
Ask you fans "How many snowflakes it takes to make a snowman." The person with the best guess will win a prize.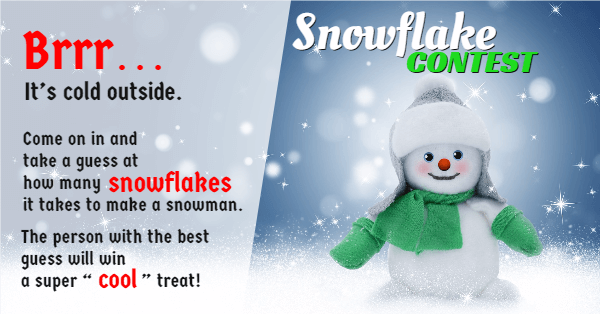 This giveaway has a lot to like about because:
It's a simple question that actually has no right answer but fans can use their imagination
The picture is eye-catching.
There is a challenge and people will love it.
If you are wondering what the answer is: an average of 58 million (5.8 x 107), with a range of 54 million to 61 million (5.4 x 107 to 6.1 x 107). The calculations assumed that a "typical snowman" could be modeled by a cylinder with a volume of 40 cubic feet, and that a snowflake could be modeled as a sphere with a volume of 0.0000004 cubic feet (4.0 x 10-7) and a packing density of 0.56 to 0.64.
You can rework this campaign easily through DigitalOcto's Design Editor  and create your own contest today.