Romantic, flowers, chocolate, bla bla bla …
Where are the marketing results?!
Yep, that the question that many business owners asking themselves.
I bet this Valentine's you won't be able to impress your customers with all these classic, sweet Valentine's Day tactics that everyone is trying out.
And, what should a brand do on Valentine's if they aren't selling candies, jewellery or flowers?
You need to think out-of-the-box to get you customers interact with your brand.
Remember, you don't necessarily need a huge budget to make a creative campaign. A relevant question, an image, and effective communication can do just as well.
But what can you do?
Ask a question (related to LOVE, of course)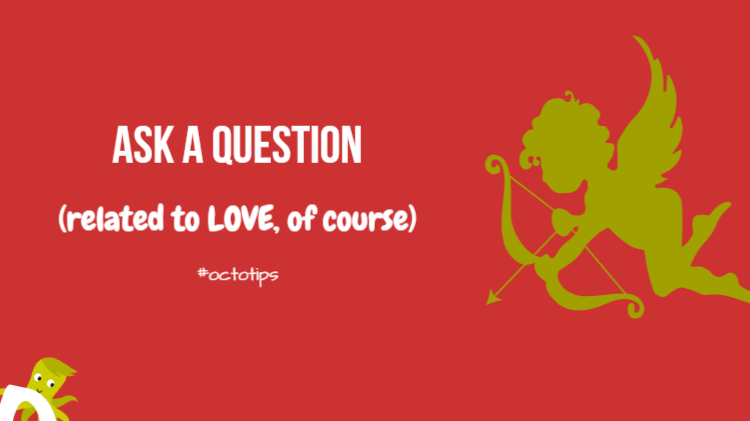 You can win the hearts of your customers, fans and prospects this Valentin's day by asking your audience to share what their definition of "love" is, or what their most awkward and unexpected romance story is…
This kind of campaigns – with a low time commitment but high level of delight – are an excellent way to make new fans that you can later nurture into customers.
This campaign is a great fit for any business, no matter what it does.
Execution plan:
Step 1:
Prepare a landing page on your website or just a blog post and add a short quiz (survey) for your audience to answer. There are many free survey services out there you can use like Typeform and SurveyMonkey
Do not forget to ask for their email address so you know where to contact them, if they win.
Come up with a cool prize that everyone will love.
Step 2:
Promote your campaign with Facebook ads
Step 3:
Post on social media (Facebook, Twitter and Instagram) some of the best answers as they are coming in to create viral effect.
This campaign is fantastic for a few reasons:
It's a good way to generate leads that can be nurtured later.
It's a lovely way to get people engaged with their social channels to expand their reach.
It's a simple way to take advantage of user-generated content.
Valentine's day campaign for travel agencies and tour operators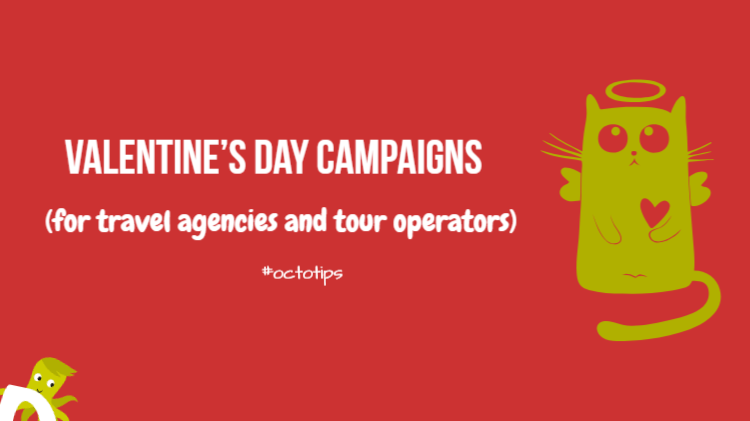 Who doesn't like a free vacation? Or free air ticket to a dream destination?
Creating an online contest that is completely user-generated content inspired is without any doubt the perfect way to reach larger audiences that will happily interact with your brand.
On occasions like Valentine's Day the best thing you can do is to launch a competition on Twitter or Instagram with a hashtag containing your company name and words like kiss, love, etc.
The competition will be encouraging couples from around the world to post their most romantic travel pics with the hashtag you chose.
The best submission will be given 2 round-trip tickets to the most romantic city in the world, Paris, for example, or free airline tickets to a chosen destination. Whatever you pick.
Read also: One Easy Social Media Marketing Tool for Travel Agents
Extra tip:
If you expand your campaign reach not only to social media, but you give the ability to upload photos directly through your website, you will be able to leverage all your outlets to drive interaction with your Valentine's Day campaign.
Other awesome ideas for travel agencies:
Aiming at a very targeted audiences can make your campaigns success. You'd imagine that couples are quite happy on Valentine's Day. Romance, presents, spending time together on Valentine's Day… But how about all those lonely people hating Valentine's day and staying home alone?
Have a singles tour where people can either celebrate their singledom or look forward to some matchmaking opportunities.
Another option to target very specific group is to:
Create a niche specific tour for people who love dogs or a genre of music so they can come together over a shared interest.
Spread the love by donating a portion of your promotion's profits to a charity like a heart foundation.
Valentine's Day campaign for restaurants, bars and bakery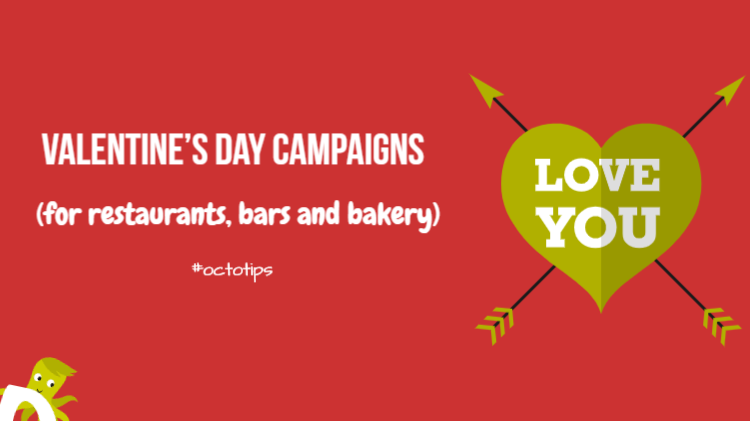 If we look back to the good old social media campaigns for Valentine's Day, what immediately pops out in mind is the KFC brilliant campaign they launched in 2012.
What they did was genius, low-budget, and romantic: they let their customers request a song on their date in KFC. You can't deny there is some sentiments in the idea. It's like in the old movies: it's a beautiful idea and almost compensates for the fact that the date is in a fast-food chain instead of fancy restaurant. Customers could go online to choose a day/time and location, KFC promised to play their chosen song on their visit to make their date special.
The idea is gold,isn't it? If you worry that a song will not work for you, think about something else. It could be any kind of Valentine's Day related stuff, that you will be able to personalise a bit and that could be requested in advance. A bit of social media promotion, and any cafe/restaurant/bakery will be fully booked.
Read also: Creative Social Media Campaigns to Win the Hearts of Your Customers on Valentine'Valentine's day for re
Ready-to-use graphics: Valentine's Day social media graphics you can customise with a few clicks
When In Doubt, Market To Men
If you are still unsure what to do for Valentine's, then here is an extra tip that might increase your profits drastically.
Studies show that men spend about twice as much on Valentine's Day as women do. In addition, they purchase more substantial products.
For example, although women buy more greeting cards, men lead in sales for jewelry, flowers and other experiences such as entertainment and dinner reservations.
Therefore, be sure to add a little more male-focused marketing tactics throughout the first two weeks of February:))