Social media is getting SUPER crowded, which means it's tough to keep followers and drive traffic to your website.
To inspire loyal fans who love your brand—and become loyal customers—you need to deliver stunning content that really grip your audience.
Sounds tough, but with the right strategy and tools, any startup can do it, no matter how small and busy they are.
To make things a little easier, we've provided a step-by-step guide to prepping your social media content strategy and calendar:
Step 1: Pick the Right Social Networks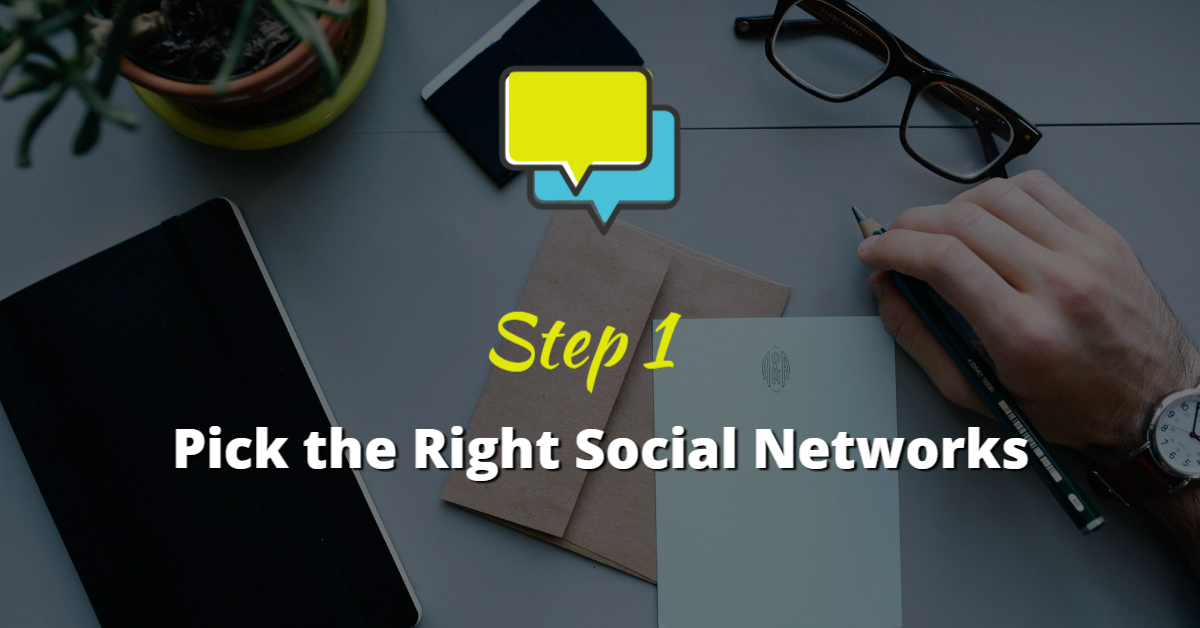 You have to go where your market is, there is no other way. Social media is all about building relationships with your fan, followers and clients. As a small business owner you do not have enough time and resources to allocate for all social networks, and that's not necessary. You need to focus on just 2-3 networks.
Consider the following factors when picking the social networks:
Facebook: Facebook is the social network that doesn't need an introduction. It is where social media marketing began. In fact, around 76% of adults online use Facebook. It's still a major source of traffic for big and small brands, so it couldn't be ignored. Remember, in the past year or so the platform has seen a 700% growth in video views, so you can't afford to miss that trend.
Pinterest: Pinterest is a visual platform. Around a third of adult internet users use Pinterest, but it's beyond question that the platform appeals more to women than men. So if you are running a business targeting female audiences, Pinterest is your go-to platform.
Twitter: Twitter has about 319 million active users per month. Plus, about 80% of Twitter usage is mobile, which could be ideal for local companies who want to engage with customers on the move. Talking on Twitter is different from every other social media site. It's a fast-paced mix of ideas. It's hectic, but it's also fun. And it could drive a good portion of your daily traffic.
LinkedIn: LinkedIn is the leading B2B social media platform. It's ideal for B2B businesses or creating a personal brand. The network has members across 200 countries and finding targeting leads is easier than on any other social platform out there.
Instagram: There are more than 800 million monthly users on Instagram. It's a great way to engage with young, visual audiences, particularly in the millennial demographic. If you are good in visual storytelling this is your platform.
Step 2: Define Your Target Market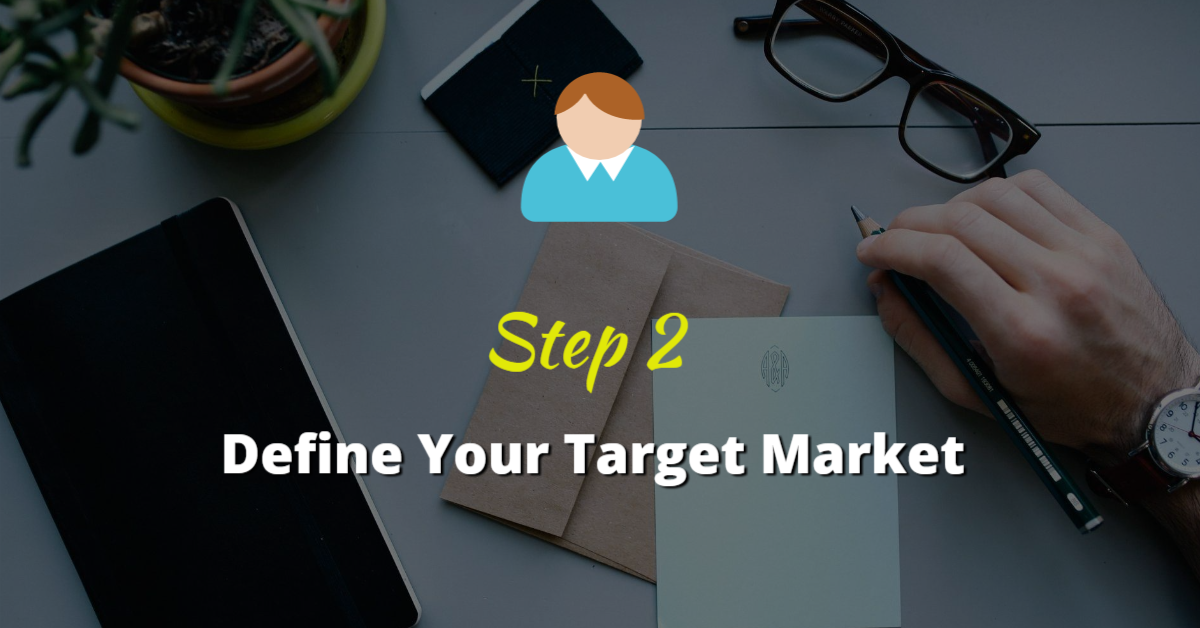 Defining your target market is the step ZERO of everything you do or plan on doing. Do this BEFORE you even think about using any social media channel.
If you don't define your target market – nothing else will work. Trust me. You'll just end up talking to the wrong people, or you'll appear to be just like every other business out there.
And defining your target market is not only a matter of age, location and interests. You need to go deep into the psychology of your ideal client – their needs, wants, pains and desires.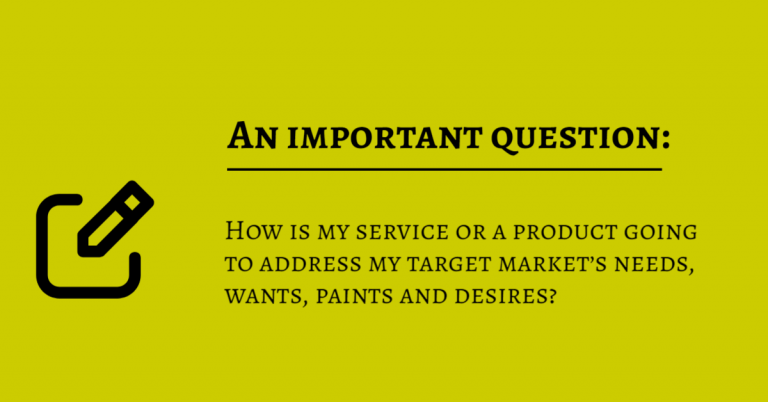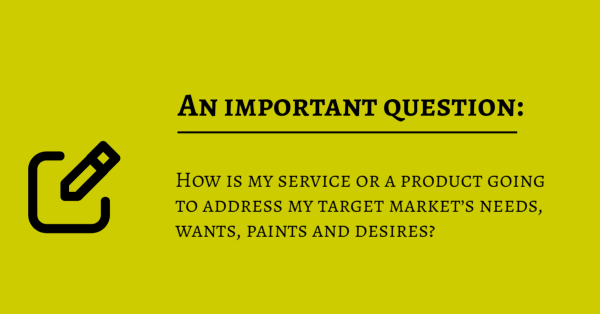 How is my product or a service going to solve their problems?
Suppose you're a clothing brand that sells female wedding dresses in Boston. Naturally, you'll cut through the male population all together while reaching out the audiences. Your main focus will be unmarried females aging 20 to 40 that might be getting married sooner or later. How do your wedding dresses fulfill these women desires? Answering this question, you will give your brand the uniqueness that will differentiate your clothes from the rest.
Then build upon what makes you unique in your market.
Step 3: Research The Perfect Content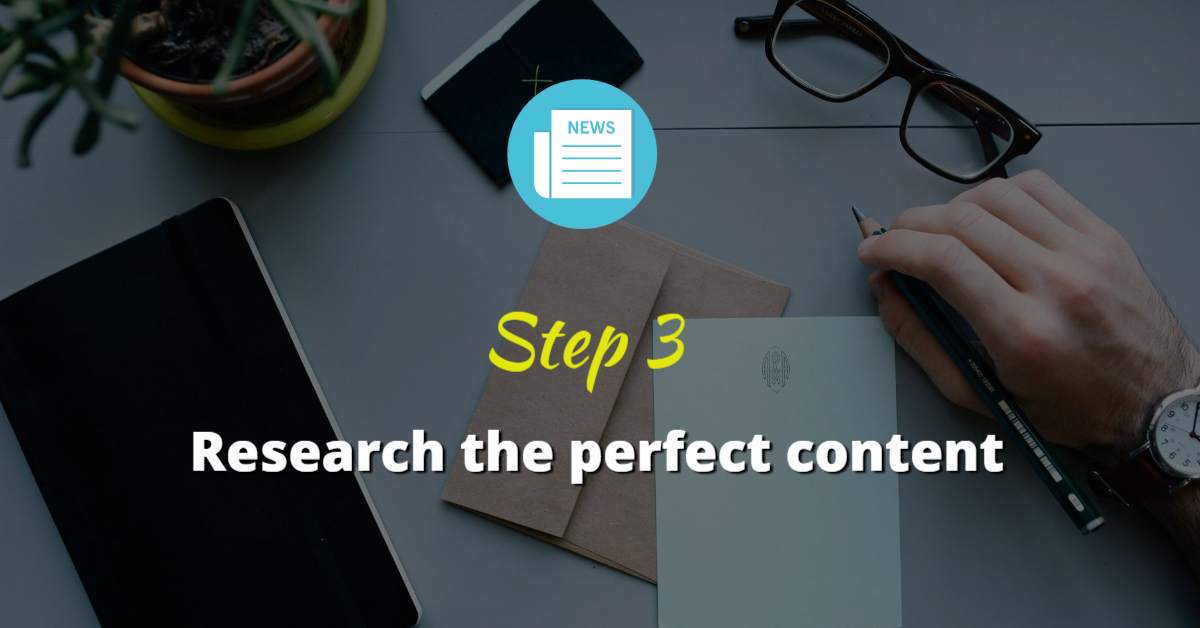 You have a good idea of who you're speaking to, where your social strategy is taking place and more. Now you need to know what kind of content you'll create. Your aim should be to design content that's relevant to your business and its values. It needs to meet the expectation of your target audience while achieving your business goals – engagement, leads, sales, etc. Don't post content for the sake of it.
The perfect content strategy should mix all of these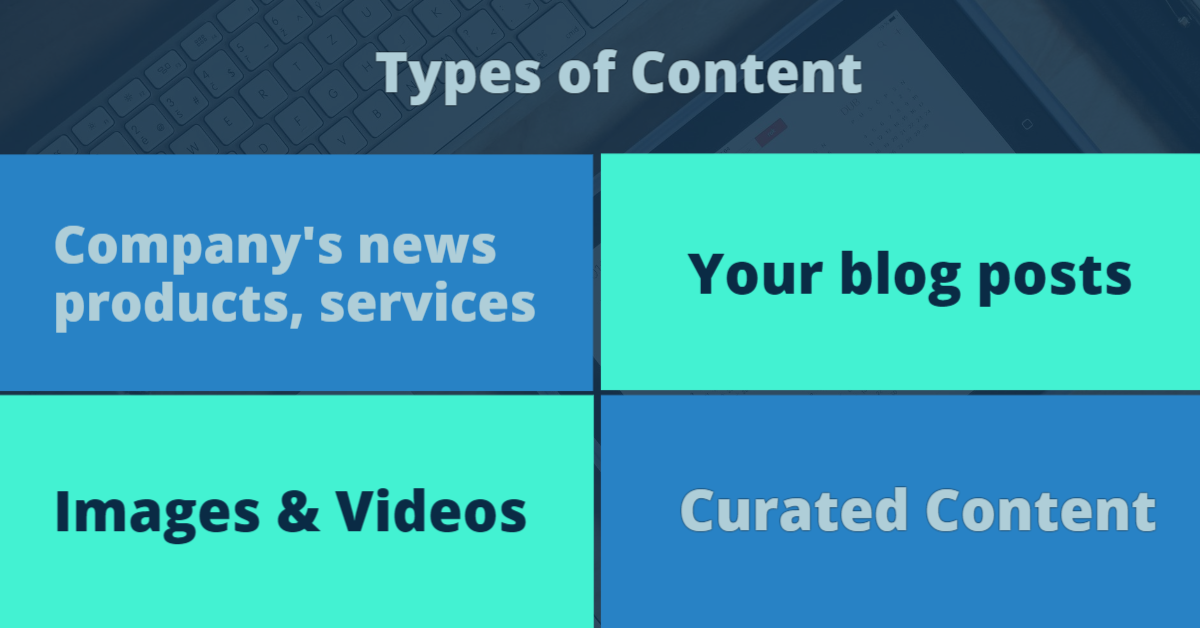 Since you know your audience and where they spend their time, it's time to figure out what they want to see from your brand. You need to start creating content, test it, tweak it, analyze it and soon you will know your audience better.
Look at your business. What are your key selling points? What's your unique value proposition? Do you have customer testimonials or product reviews? Any social proof? What's your best selling product or service? Do you offer free webinars? Free trials/samples?
Answering all those questions will give you an idea of the content you want to post regularly because it's essential for your business to drive traffic to it.
Landing pages where you capture leads, offer freebies, or sell an ebook
Promotion of products, services, free trials, or samples
Customer testimonials
However, you can't just post promotional stuff and expect people to be happy. Mixing up different content types is what works on social media:
Quotes
Data (Infographics, statistics)
Video (hot, hot, hot!)
Gifs/Memes
Behind the Scenes (a look into your business)
Tips and How-To's
Questions
One of the common mistakes is producing mediocre and insufficiently useful content. To succeed in engaging social users you should be meeting or ideally combining some of these tactics:
Entertaining/ moving/ thought provoking
Provides genuine utility
Educational
Visually stunning
In-depth/ detailed
Provides a uniquely positive user experience
Includes data visualisation/ infographics
Successful brands usually have almost all of these tactics implemented into their content strategy. This is why they are becoming an inspiring and relevant brand on social – their storytelling captures their audience's attention and keeps them coming back for more.
Step 4: Elements of a Good Social Media Post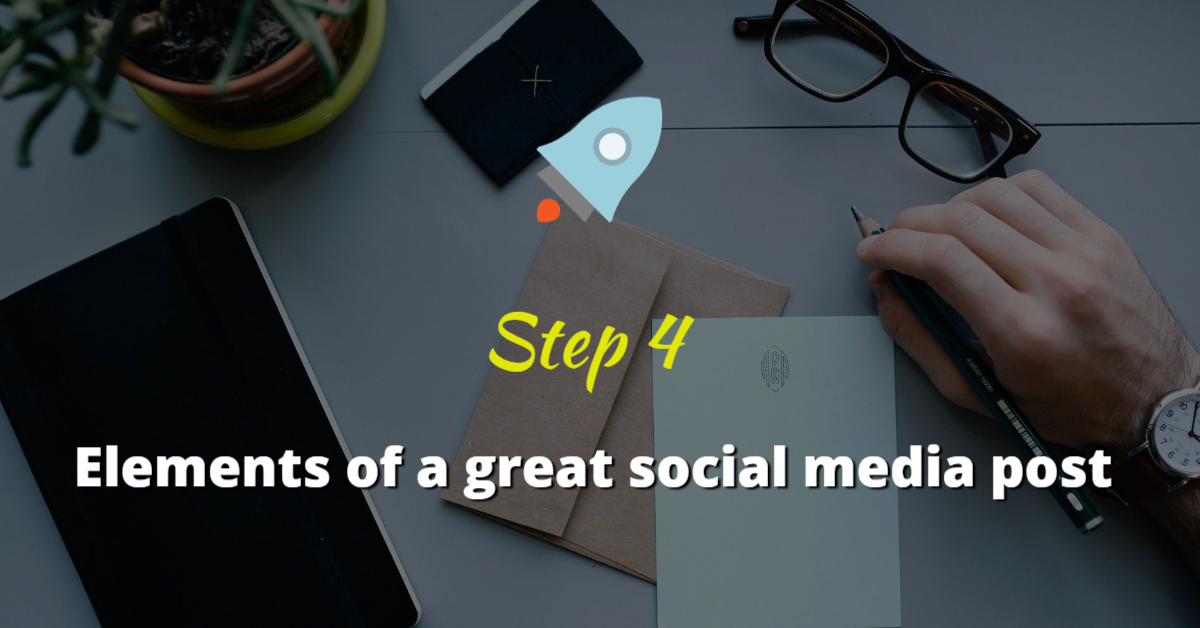 Writing a post for social media is easy. Learning to write a post that inspires action and gets people to click through to your content is a whole another story.
Having stories that appear at the top of your follower's feed helps keep your brand at the top of their minds. Use storytelling to tell people why they should stop, read and engage with your brand.
There are millions of stories everyday, you need to find ways to make yours count.
It's time to learn how to post stories that will get those valuable clicks.
Simple, clear message – an engaging first sentence or hook
All your posts should have one key element that is readily visible in the first sentence. There are first line sentences that can really grip your audience: interesting, unusual, shocking, or emotional. Viral content is consumed because it meets these human emotional needs.
For Twitter you need to compress everything and use the fewest possible words, never mind 280. For other social networks longer descriptions work better, especially for Instagram.
But remember, the first sentence is what matters. There are many stories appearing on every feed daily. Give your target audience a compelling reason to read yours.
"The power of wow" – using inspiring images that reinforce the text
Images bring words to life. When people read a text, they still love to visualise your point. Images act on an emotional level and give more meaning to the text.
High quality, colourful and unique visual content – this is the first step in getting users to stop scrolling. The 'wow' element of the image makes the user stop and want more information.
BUT remember: visuals are great, but simply not enough. Supporting them with powerful storytelling is a rising trend that engages users.
The use of hashtags to boost your online visibility
Wise use of hashtags works a great deal.
Don't use too many hashtags.
Do not use a hashtag in every post for Facebook, Twitter and LinkedIn. However, you can use many hashtags on Instagram, but research them well.
A good tip with hashtags is to only use it for one or two keywords. This will make it easy for people in your niche to find the post when they use the search function.
Additionally, go through trending hashtags from time to time and construct relevant posts around them. It can lead to increased impressions for your profile.
Short URLs or Google Analytics
Use Bit.ly or Google Analytics to track users' interactions.
On one hand, a short URL makes the post neater and less salesy. On the other, Bit.ly and Google Analytics help measure the impact of your posts. They will give you information on how many people have actually taken an action – like, share, retweet, or visit your site.
If you go to your browser, place your Bit.ly link and put a "+" after it, you will be able to see useful stats about this post.
If you use SmartPublisher to schedule and publish your social media posts, all you need to do is to activate the Google Analytics feature and write a unique Campaign Title .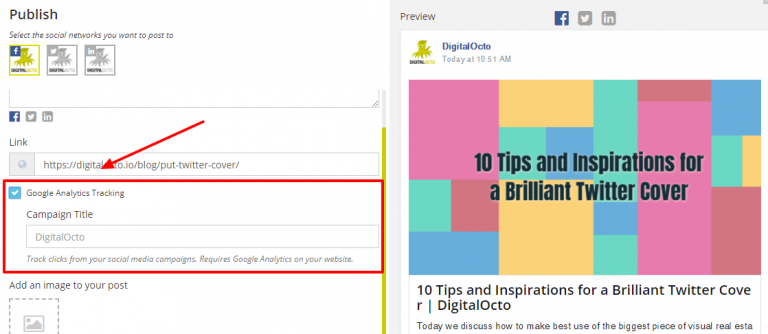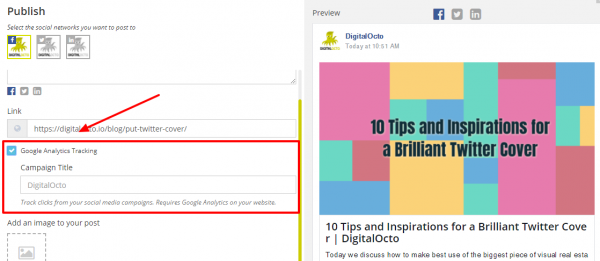 Step 5: Best Times to Post on Social Media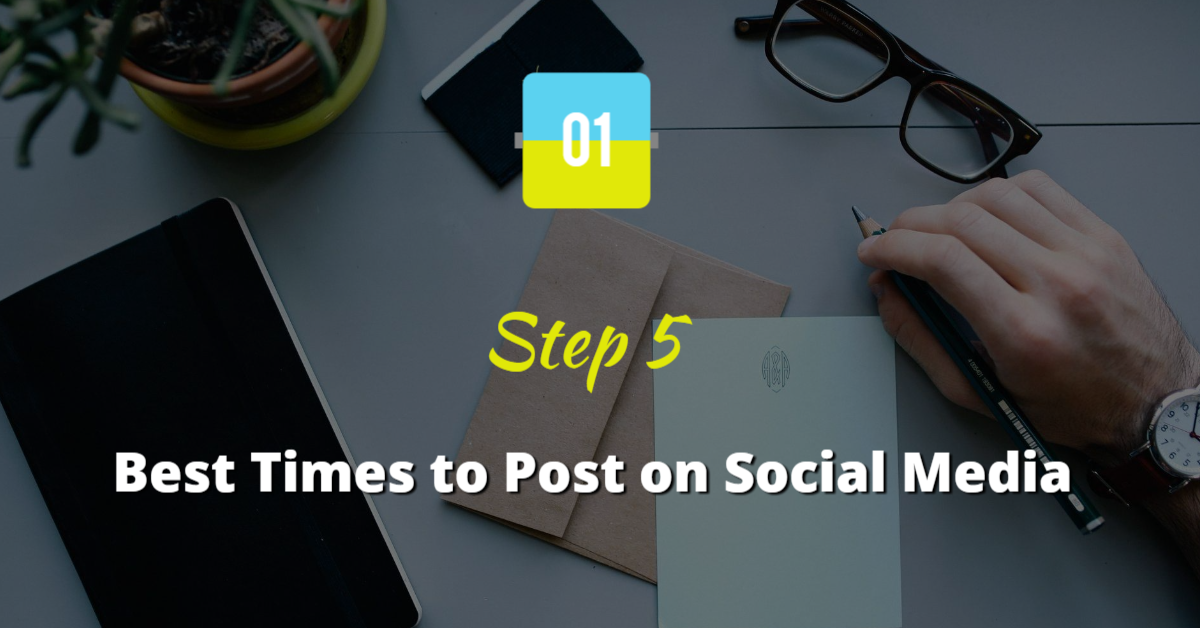 Knowing when your target audience is online is important because it makes the difference between a single click or 20. After all, your goal is to be on top of each network, right.
Every business's audience varies so it's best to put everything on test and see for yourself when your audience is more active.
However there are certain times that are a safe bet to start.
Facebook: Wednesday through Sunday in the afternoon.
Twitter: Weekdays between noon and 3 p.m.
LinkedIn: Tuesday through Thursday during business hours.
Instagram: Monday through Friday at 8 a.m. or 5 p.m.
Pinterest: Any day of the week in evening.
Remember: republishing the same post in different days and times is a good way to reach more fans.
Step 6: How Frequently You Should Post on Social Media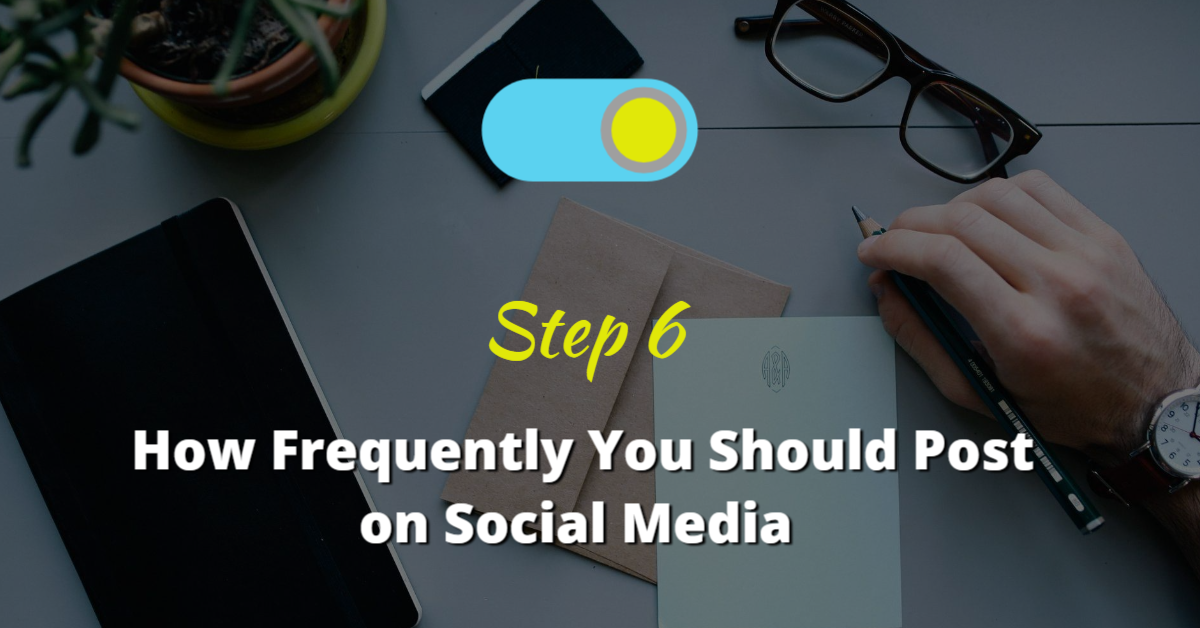 What's the Ideal Publishing Frequency on Twitter?
Driving HUGE traffic from Twitter means you should tweet more frequently than any other social media network out there. The most successful folks on Twitter post between 14 and 16 tweets a day. But you can try to start with 6-7 tweets and increase their number over time.
The simple rule that works on Twitter is the more you post, the more visibility, and total clicks your posts get.
What is the Ideal Publishing Frequency on LinkedIn?
LinkedIn doesn't want users' feed to be crowded by posts from the same company. That's why posting once per workday is more than enough to get the maximum return on investment. You can even consider posting 3 times per week from Tuesday to Thursday for best results.
What Is the Ideal Publishing Frequency on Facebook?
We suggest you focus your efforts on the quality of the content you share, not the time of day or day of the week when publishing. Facebook's Head of News Feed Adam Mosseri says, "Page posts that generate conversation between people will show higher in News Feed.
Similar to LinkedIn, you do not have to publish more than 5 times per week which means once per workday.
TIP: Facebook Ads offer some of the highest ROI of social ads you can buy, especially if you are doing any retargeting. And once you've published on Facebook, you can easily boost posts to reach more people. I highly recommend trying Facebook ads for driving traffic and leads.
Step 7: Create a Content Calendar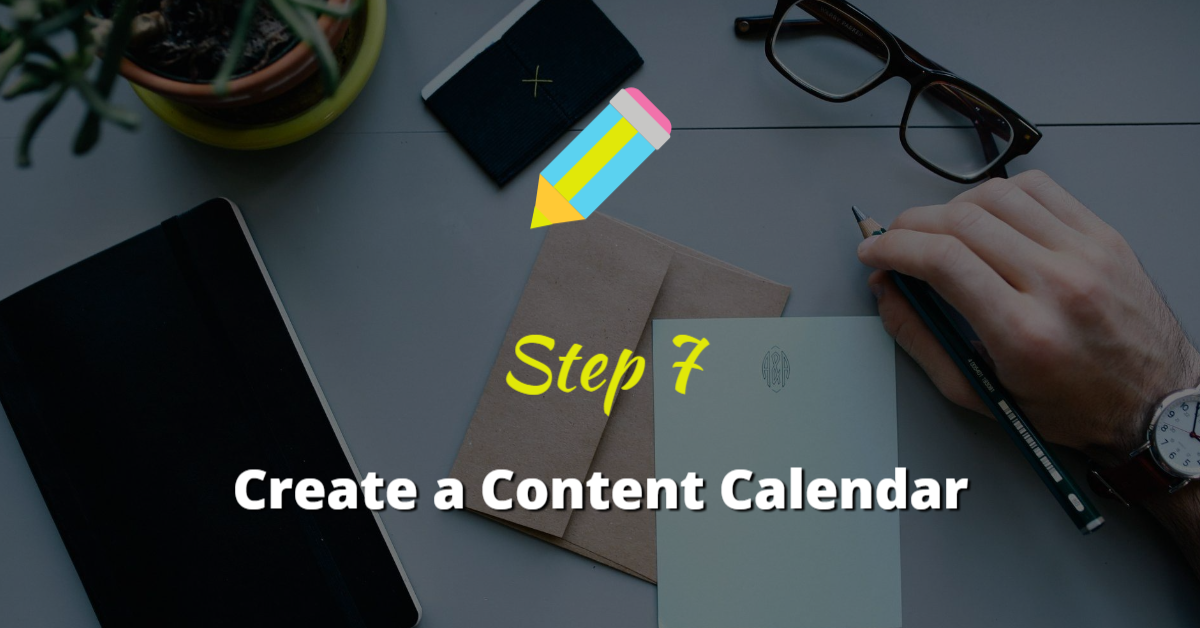 When you start thinking over your content calendar, remember, a good social media content strategy needs to be consistent. This helps you keep your customers engaged.
Why do you need a content calendar?
The benefit of using the calendar format is that you can visualize how your content is distributed. This allows you to:
plan content around key events in your industry, important dates, or big holidays;
mix up different content types for better results;
see where you have gaps in your plan;
If you combine your Calendar with a scheduling tool like SmartPublisher, you will soon see how efficient and effective this solution could be. SmartPublisher will add a level of automation (plus other powerful features) that spreadsheets can't match.
HOT TIP: At the beginning, a week ahead planning is the right way to go. Why? You still do not know what will work and what will not. You need to test things out. Create a posting schedule for a week and at the end of the period, you will be able to assess the results of your efforts and based on your conclusions to plan out the next week.
Follow the steps below to create your calendar:
Step 7.1: Determine What You'll Be Creating
Your social media campaign can be promoting for example:
A blog post or ebook
A landing page
A contest
A brand or product
Step 7.2: Write Your Post Message
If you don't want to write your post message directly into your spreadsheet, use Word, Google Docs, or whatever you like. Lay out your document like this:
Network [INSERT NETWORK]
Post 1 Message: [ENTER POST]
Post 1 Image: [INSERT IMAGE NAME OR URL]
Post 1 Link: [INSERT URL]
Network [INSERT NETWORK]
Post 2 Message: [ENTER POST]
Post 2 Image: [INSERT IMAGE NAME OR URL]
Post 2 Link: [INSERT URL]
Continue until you've completed all your posts for the week.
Next, you'll need to discuss your post ideas with your designer and get their creative input.
If you do not have a designer, there is nothing to worry about. You can create awesome graphics yourself with DesignPro – an intuitive graphic design tool for non-designers with more than 1500 pre-made design templates.
Step 7.4: Add All Your Posts Onto Your Calendar
Now let's explore how to use the free calendar planner step-by-step.
But before we start, take a moment to download it:
The calendar is an Excel file that you can either download to your desktop or upload to Google Sheets (TIP: a great option if you collaborate with other people)
Enter a starting date

When you open the Social media calendar, the first thing you need to do is update the date. After you enter the starting date, your calendar will be set for the next month automatically.

You can enter the date in different formats, Excel will recognize it. For example you can type in "1 mar 2018", or "01-03-2018" or even just "mar 2018".
Add All Your Posts Onto Your Calendar
You have already prepared all the content for the week. It's time to place it all in the calendar.
There are several different colored tabs at the bottom of the spreadsheet. Each of those tabs is dedicated to a specific content type and is color-coded for easier recognition.

Here's a quick breakdown of each type:
Holidays – Here you can list all upcoming holidays that are relevant to your business.
Campaigns – If you plan running a 7 day campaign for a holiday you can plan each days leading to the holiday itself.
Evergreen – all your best performing posts will be here. Make sure to republish them regularly.
Content – list of interesting content worth sharing with your fans
Products – promotional posts for your own products
Engage – list all funny and engaging post ideas here. It is important to keep your fans engaged.
Other – in this section you can add all content that don`t fit in the other categories – like webinars, eBooks, ect.
You might not need all those tabs. It depends on the types of content you plan to post. You can always customise the tabs based on your own your preferences.
Now you should enter your content.

In the example above, the selected tab is Holiday and the content is a post related to Valentine's day. You need to fill out all fields starting from the date the post should go live, then message, link to the source or the website and the image.
Repeat as necessary until you've entered all your content. Follow this same process for every post you create.
Social Media Calendar Planning

Once you added all your content in the backlogs, it's time to start planning the type of content you will post every day.
For that purpose, you should go to the "Social Media Calendar" tab and simply copy a cell with the content type color and paste it under the right date. When you finish it, you will have a full calendar for the month mixing different posts.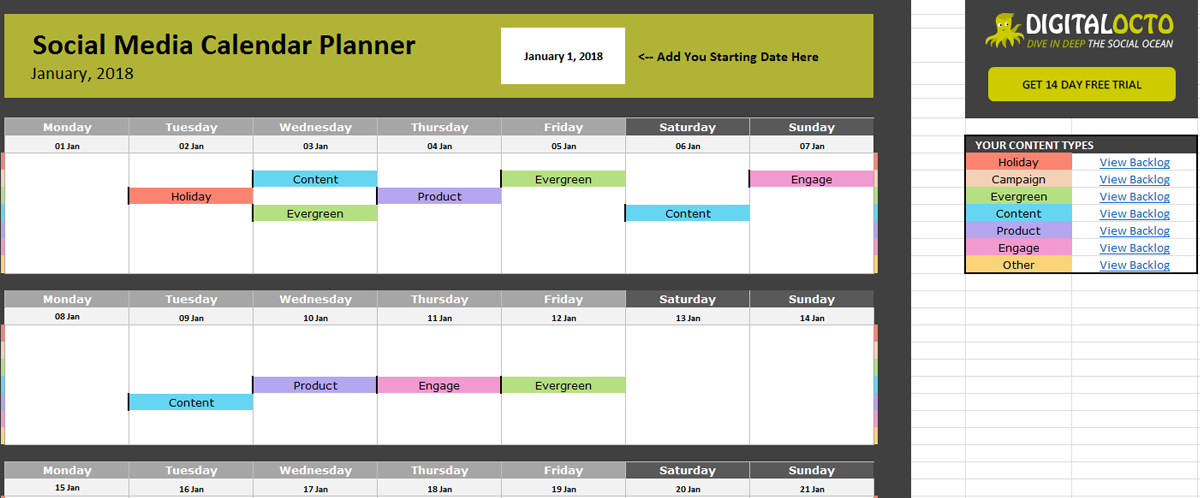 3 Tips For Keeping Your Social Media Calendar Full

Keeping your calendar full can seem time consuming and hard. However, there are some tips you can follow to make it easier.
Write Multiple Posts Promoting One Article Or Product
You have an awesome blog post or web page to promote. Consider writing multiple messages and creating a couple of images for that one page and then post them in different days. This can cut down on the number of blog posts you need to write every month.
Reuse Messages
Consider republishing your best posts on an ongoing basis on your calendar. With SmartPublisher, you can save time and schedule those posts to go live on different days and at different times.
Curate Content
When you find insightful posts around the web that will spark the interest of your audience, share them on your social media.
Step 7.5: Schedule Your Posts
You do not necessarily need to schedule your posts in advance. You can go every day and publish the posts you've already planned to the different social networks. Look at the Calendar, see what type of content you have planned for the day, go to the backlog for that type of content and choose one of the posts, you've added there.
However, if you want to save yourself some time, you can schedule the posts to all social networks at once with the help of a scheduling tool like SmartPublisher and forget about it for a week.
To start scheduling with SmartPublisher, you need to select a social profile in the left navigation and select New Post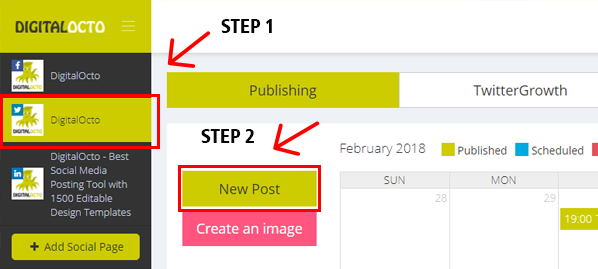 In the Publish pop-up, you can choose to schedule your post for all your social profiles at once, or for just one or two. Just select the right profiles.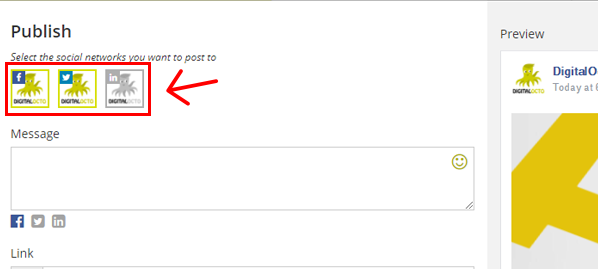 Then, write your message, add the link and image (take all this info from your Calendar).
Next, scroll down to the Create a schedule option and turn on the feature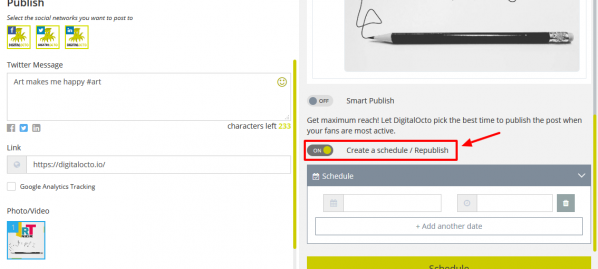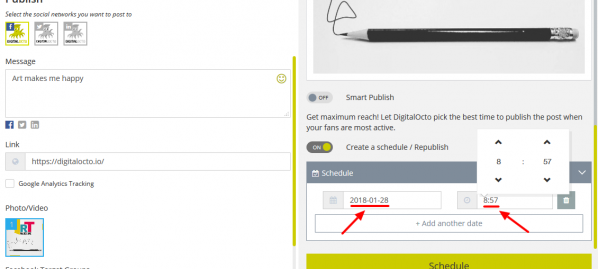 Add as many schedules as you want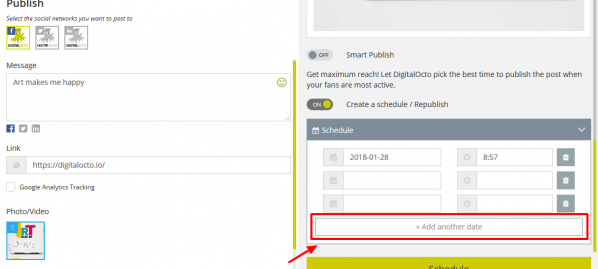 Voila! You have scheduled your post to go live multiple times on different dates and at different times
You can repeat the same steps until you schedule all posts for the week ahead.
Step 8: Track Performance & Make Adjustments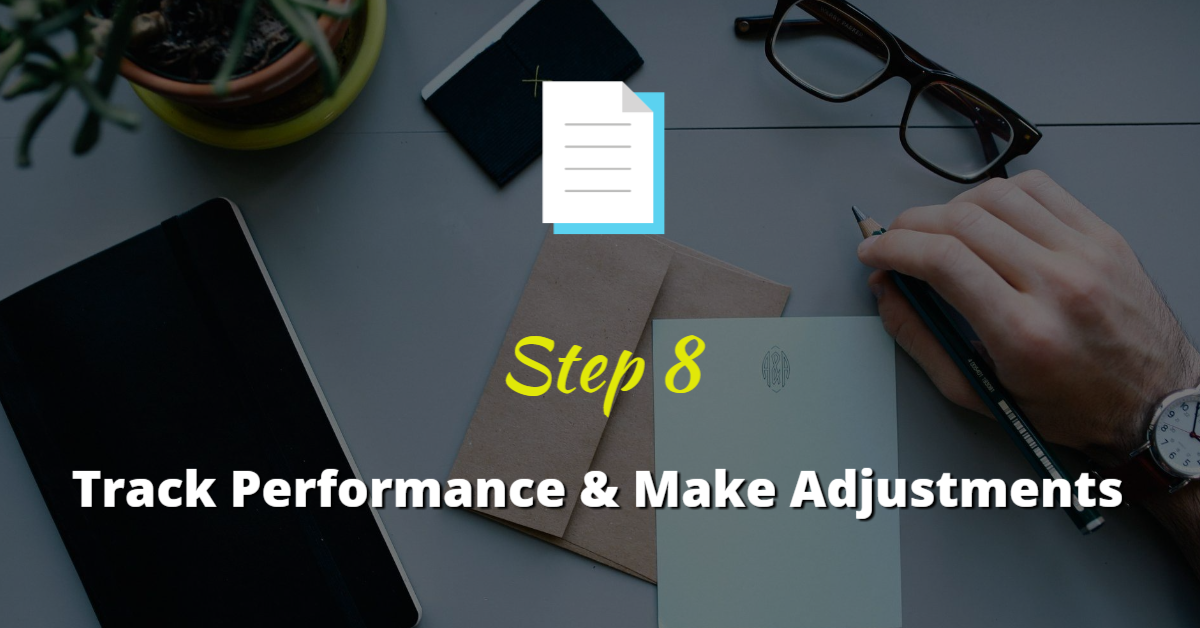 At the end of each week, you need to take a look at the stats and track the performance of your content strategy.
What are the areas you need to keep an eye on?
Engagement: How many people are interacting with the content you post? Think about likes, retweets, mentions, shares and comments
Reach: You can measure it by assessing how many new connections or followers you've gathered over the past week.
Conversions: Is your social media content strategy leading to sales? Consider using Google Analytics to see how many people have visited your website or landing pages and if you've managed to turn them into sales and leads.
When it comes to creating content for social media, proving what works comes down to testing, redesigning, tweaking, and trying new things constantly.
It's important to note that what works for some businesses or industries may not work for others. Research your competitors, try to figure what works for them and then see if you will receive the same level of engagement and response from your users.